Connect your Magento store to HugePOD
Instructions to Connect to Magento 2 Stores that Require 2FA
Stores that are on magento 2 (or migrated from magento 1 to 2) should have magento 2FA enabled automatically.Non technical user can check 2FA on https://docs.magento.com/user-guide/stores/security-two-factor-authentication.html Magento 2 was released in March of last year- https://business.adobe.com/products/magento/new.html?mv=search&utmsource=google&utmm%5B…%5DpG4ogSFbamOpF662XfowYnzblRXz0X-HvzIbEEW75j2ivcaAjQvEALw_wcB

Context
Magento 2FAC issue is something introduced very recently as part of 2.4. Stores that have 2FA configured require a Google OTP, resulting in the following error when connecting through Rutter.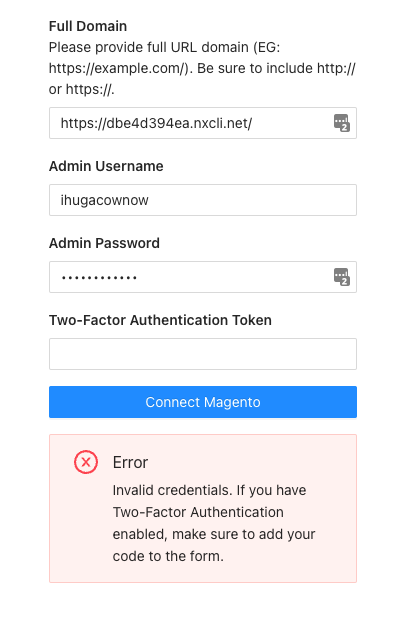 Solution
Magento provides an access token when you create an active integration (self-activated). Please follow this step by step tutorial to manually create your access token and add it in the Rutter connection flow.

Connect your Magento store to HugePOD
Detailed Steps
Sign in to your Magento account (as admin)

Systems > Extensions > Integrations > Add New Integration

Set available APIs to ALL

Click on Activate for the new integration > Integration Token for Extensions page is generated with 4 keys. The access token can be used in all calls made on behalf of the integration.

Log into your HugePOD account, and under Stores, find Magento platform, click link;

Tap the button below Admin Password to show Two-Factor Authentication Token Field.

Fill up the field for Two-Factor Authentication Token and Connect Magento. That's it. You're done! Now your new Magento orders will be automatically imported into HugePOD.
Feel free to contact us at info@hugepod.com for any questions, we're here 24/7
---
FAQ Section
How would a non-technical user know if their store uses 2FA?

Stores that are on magento 2 (or migrated from magento 1 to 2) should have magento 2FA enabled automatically.
Non technical user can log into magento store and check 2FA on https://docs.magento.com/user-guide/stores/security-two-factor-authentication.html
Note that Magento 2 was released in Feb 2021, so if the shop was created after Feb 2021, they are probably on 2FA. https://business.adobe.com/products/magento/new.html?mv=search&utmsource=google&utmm[…]pG4ogSFbamOpF662XfowYnzblRXz0X-HvzIbEEW75j2ivcaAjQvEALw_wcB